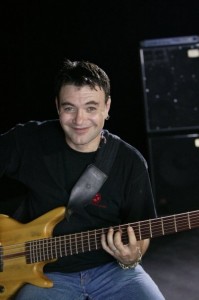 ALEX CHOUB – DANISH 6-STRING BASS MUSICIAN, COMPOSER, PRODUCER, TEACHER
World/Fusion/Rock//Acid Jazz/Film & Theatre music.
Composer and producer, performing musician with 6-string bass 'touch style' technique, leader of the bands Bassworks and Alex Choub trio, composer, bassplayer, pianoplayer for the Amanda.
Alex' music was in Djembe – Denmark's leading cross-cultural magazine since 1992 – described as 'Bigger than World music' and 'Jazzkiller'.
Alex has been in the music industry since 1979.
Education
Danish Alternative Rhytmic Conservatorium 'DARK', University Krasnoyarsk, Art/Music College Abakan/Russia.
Inspirations
Inspired by Tonny Levin, John Zorn, King Crimson, Rakhmaninov, Ciurlionis, Prokofjev and travels in both East and West.
Published work
'Dies Irae', 2011
Bassworks 'Soundtcheck 2010′ DiGiDi release
Palm Tree album 'Astral', 2009
Palm Tree cd, 2008 (Indigo Records)
Single Palm Tree in 'Nu Lounge Various Artists Compilation', 2007 (NuNote Records)
'Out of Phase' CD, 2004 ('N.E.W. Sound Experience – Day of the Gods')
'Rush Inside', 2006 (NuNote Records)
'Bass Guitar Frequency Range', 2003 ( with Peter Mossman, Anders Honore, Jens Haak, Debbie Cameron)
'Bassworks', 2000 (X3M Records) (with Alex Vargas, Moussa Diallo, Calvin Clarke and opera singer Naja Monrad Hansen)

Film/Theatre
Music Contract with Zentropa (Filmbyen, Denmark)
Getty Images (USA)
Film triology (2005, 2006, 2007 by Jorn Balther, Copenhagen)
Earlier coorporation with Russian movie companies.
International projects
Lounge Festival (Moscow)
Deep Intellect Festival (Moscow)
Rocking Chear (Funk-Jazz, Riga, Latvia)
Vfsix (Trip Hop, Moscow)
Endorsement contract with Handy Pepper, Ostap & Galien Kruger, World Wide Management A/S – music management
Fender Scandinavia A/S – tour with Fender Road House presentation Coorperation &
Concerts in USA with NetKitchen.com (San Francisco)
Cooperation with Santana musicians in California (Jorge Perez Molina, LJ and more)
Coorperation with producer Peter Kyed (Lyd Experiment), Debbie Cameron, Bo Stief, Al Agami, Anders Honoré, Vladimir Chekasin, Luther Thomas, Soyka, VfSix, Peter Mossman, Secret Cinema, Tove Vestmø.
Kildemose Festival.
Berlin Soup Festival.
Art Saloon Ibsens hotel.

Television and Radio 
2014
Interview/Vesterbro LokalTV
2008-2010
TV Israel
Canal Copenhagen
Vesterbro TV
Music Events with the band Palm Tree in historical Roundtower of Copenhagen Cultural Night – Nørrebro TV
Russian New Year Eve – Christiania TV
2006-2007
Educational video '6-string bass technique'
Riga Interview for Israel TV
Live concert at 'Lounge Festival, Moscow
2003-2004
Two tracks from the CD 'Where ever we are' and 'My name is pain' was played a lot in Silver Rains radio programs Dokumentary programs on Russian TV about Bassworks with video clips from life concerts in Denmark Educational video,
1994
'6-string bass progressive technique', Moscow,
Music video for TV-Program 'Metal Fabrikken', Copenhagen.